After a long day at work or running up and down, all that I think about when I step on my front door is a warm bubble bath. For long and enjoyable baths, you should consider getting a bathtub tray.
Bathtub caddy is a brilliant accessory when you need a long and relaxing bath to rejuvenate yourself. It is not only good for putting your favorite book and wine, but it can also contain your bathing products. You can also put your entertainment items like the iPad and iPhone here. You can find a lot of options available for bath trays for reading, finding the best can be overwhelming.
Luckily, you don't have to do your research anymore because we have rounded up the best bath trays for reading in this article.
Benefits of Using a Bathtub Reading Tray
A bathtub reading tray can be an excellent prop for Instagram, but this bathroom accessory is more than a prop, it has many uses. You can use it in many different ways; that is why it is a vital accessory for your bath. Here are some of the benefits that you may not realize.
Hands-Free Reading
Reading and bathing are two of the best ways to relax, and when you can combine these two, your stress will definitely go away. But bringing your precious books in the bathtub can be hard as the books can get wet or drop in the tub. With the bath tray for reading, you keep your books nice and dry while reading to your heart's content.
Don't feel like reading?
Using the bath tray can make it easy for you to watch the latest episode of your favorite series on your mobile device while relaxing in the bath. Instead of placing your tablet or phone on the ledge of your tub, the bath tray for reading can hold it securely in place.
Light up the mood
Fancy a bath with lighted candles? You can place a candle on your bath tray for reading and have a glass of wine or your favorite drink. Placing a candle on the tray is safer, like putting it on the countertop of other furniture.
Best Bathtub Reading Tray
We have reviewed a lot of bathtub reading trays. Each of them was tested on how they can hold a wide range of items like a book, tablet, and many other things.
We also look into its other uses to make a soak in the tub even more enjoyable. Using our criteria, we compared their quality, performance, and price.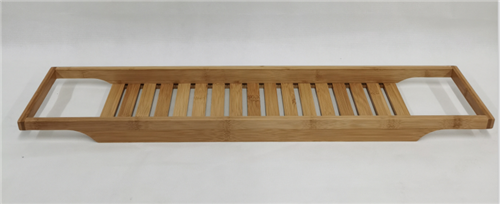 This bath tray for reading is an effective way to transform your bathroom with some class and luxury. It provides an exciting contrast to the sterile background of your bath, giving it a homey appeal. Aside from giving aesthetics to the bathroom, this tray is well designed and sturdy.
Since the bathroom is humid and damp, it can be hard to find a tray that can adapt to these conditions without getting damaged. This tray is protected from all of these because it is waterproof, sturdy, and is perfectly built.
It is made from 100% bamboo that is renewable and wear-resistant and easy to clean—a coating of wood varnish on its surface, reinforcing its ability to fight water and mildew.
The design for this bath tray for reading has a well-thought design to answer all your needs for relaxation while taking a bath. It has a holder for your glass of wine, a lot for your phone and tablet, and three different tilting angles for your convenience while watching movies or reading a book and a space to put your candle, cup, or soap.
Also, you can place your towels and bathing essentials in the removable trays. You don't have to worry about getting bumps with this bath tray for reading because it has rounded corners and sanded edges.
It will not move around and stays in place with the silicone strips at the bottom. The bath tray will not move, and its contents will end up in the water.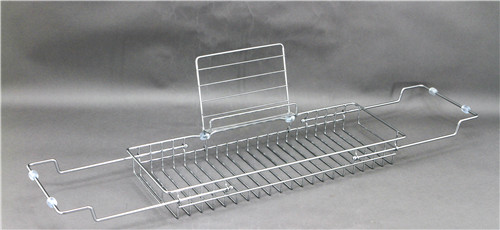 This is undoubtedly one of the best reading trays for the bathtub out there because of its adaptability.
Its handles are made to slide and adjust to the needed width. Its maximum length is 33.85 inches when fully extended. You don't have to worry about it slipping or falling into the water because it has handy silicon grips that attach to the tub and keep the tray in place.
This bathtub tray for reading is made from 100% durable steel with chrome plating finish, it can withstand the humid environment of the bathroom with proper treatment.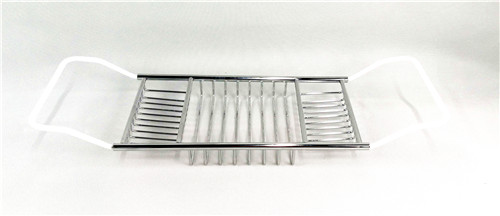 It is perfect for reading shelf for bathtub for couples. This bathtub accessory is designed to hold all your necessities while bathing. It includes a built-in wine glass holder, a reading rack, several slots for your bathing essentials, and a phone.
What you have here is a complete organizer to enjoy your bathing conveniently. The material from which this caddy is made from is bamboo.
It's a durable and sturdy material. To prevent it from sliding and your things fall into the water, silicone grips were installed on its bottom.
A bath tray for reading is the perfect accessory you need to enhance your alone time at the tub. It will help you to have a proper place for your book, mobile device, and even your glass of wine. Most bath trays are not expensive, but it is a thoughtful gift to your friend or a housewarming.
---
Post time: Sep-09-2020