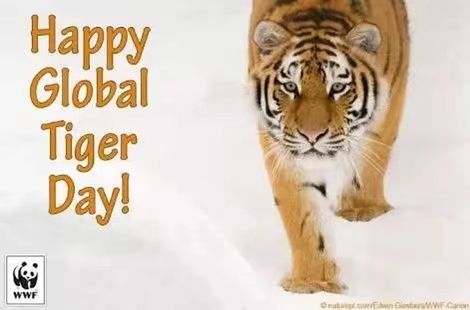 (source from tigers.panda.org)
Global Tiger Day is celebrated every year on July 29th as a way to raise awareness about this magnificent but endangered big cat. The day was founded in 2010, when the 13 tiger range countries came together to create Tx2 – the global goal to double the number of wild tigers by the year 2022. 
2016 marks the halfway point of this ambitious goal and this year has been one of the most united and exciting Global Tiger Days yet. WWF offices, organizations, celebrities, government officials, families, friends and individuals around the world came together in support of the #ThumbsUpForTigers campaign – showing the tiger range countries that there is worldwide support for tiger conservation efforts and the Tx2 goal.
Take a look through the countries below for some of the Global Tiger Day highlights around the world.
"Doubling tigers is about tigers, about the whole of nature – and it's also about us"  – Marco Lambertini, Director General WWF
CHINA
There is evidence of tigers returning and breeding in Northeast China. The country is currently conducting tiger surveys to gain an estimate of numbers. This Global Tiger Day, WWF-China joined forces with WWF-Russia to host a two-day festival in China. The festival played host to government officials, tiger experts and corporate delegations and involved presentations by officials, representatives from the nature reserves, and WWF offices. Small-group discussions between corporations and nature reserves about tiger conservation were held, and a field trip for corporate delegations was arranged.
---
Post time: Jul-29-2022